Welcome to Region V Hazardous Materials Response Commission's updated website! We hope you will enjoy browsing through our website and that you will find a lot of useful information here. We update our pages periodically so check back often.
Region V Hazmat Foundation kicks off Capital Campaign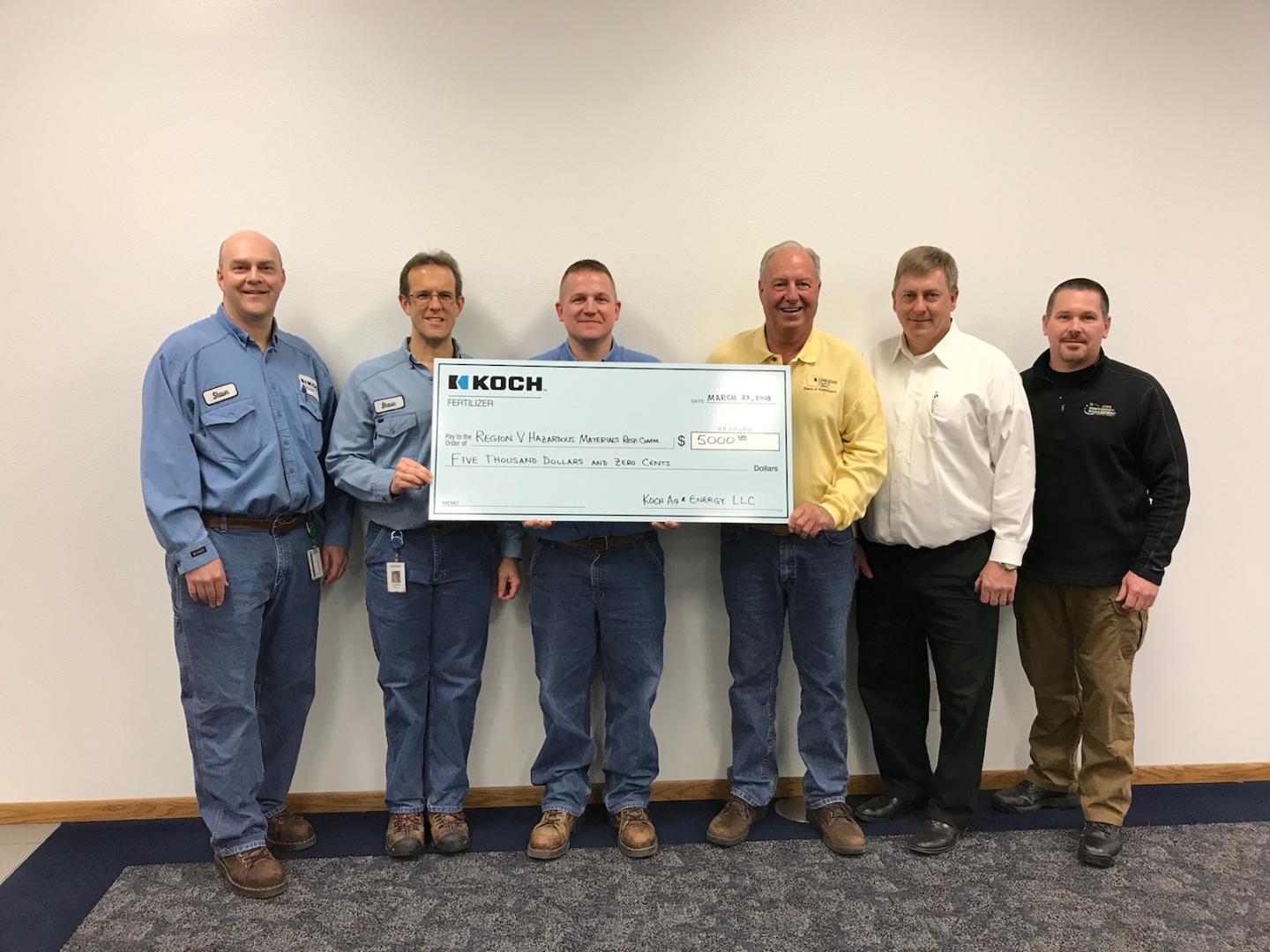 Capital Campaign
Koch Fertilizer helped Region V Hazardous Materials Response Commission Foundation Inc. kick off our Capital Campaign by presenting the Foundation with a check for $5,000. Mike Tempel stated that Koch values the team and working with Region V LEPC in keeping the region a safe place to live and work. Pictured above from the left is Shawn Campbell, Koch Fertilizer Plant Manager; Shawn Kerrick, EHS Leader; Mike Tempel, Safety/Security Manager; David Young, Region V Foundation Vice-Chair; Scott Jacobs, Region V Response Commission Chair and Scott Forbes, Region V LEPC Vice-Chair.
Region V Administrative Office
Location: 1515 Central Ave, Fort Dodge, Iowa 50501
Secretary: April Schuster
Phone: 515-955-6748
Email: regionvlepc@yahoo.com
Team Location
1515 Central Avenue, Fort Dodge, Iowa 50501
Phone: 515-573-2871
Team Coordinator: Andy Midtling
Email: amidtling@fortdodgeiowa.org
Phone: 515-835-9746
ReIated Iowa Maps
Mission Statement: To better protect the citizens of Region V Hazardous Materials Response Area from chemical accidents by sharing resources, promoting regionalization of services, and providing mutual assistance in time of emergency.